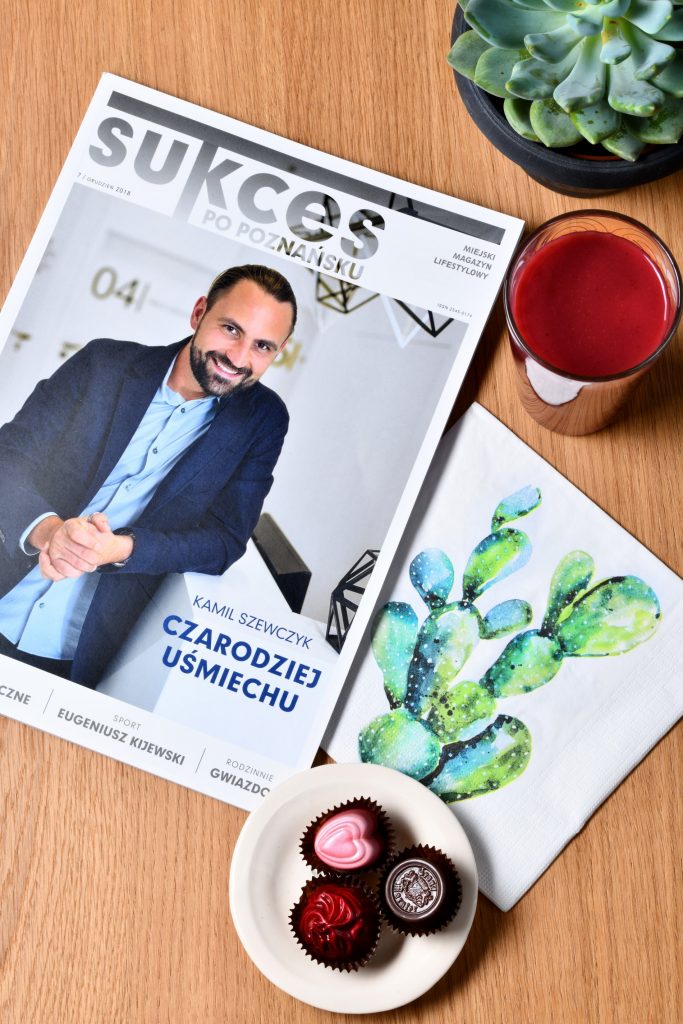 Read an interview with Kamil Szewczyk, cofounder of the Exclusive Dental Studio clinic. He is a recognized dentist, both in Poland and abroad. Member of the ICOI - International Congress of Oral Implantology and the DGOI - Deutsche Gesellschaft für Orale Implantologie. In this interview Kamil Szewczyk will reveal the secrets of his clinic's success.
When was your clinic founded?
The clinic was founded in 2006. The Exclusive Dental Studio clinic has a team of almost 60 people working in two offices. Over the past 14 years, we have provided dental care to more than 25,000 patients from Germany, the United Kingdom and France, among others. To date, we have placed implants for more than 3,000 patients, and more than 99% of them believe that they made the right decision!
How did the name Exclusive Dental Studio originate?
My wife invented the name. It implies the highest quality dental care for everyone. And this is perfectly in line with our philosophy. Our patients receive the most appropriate treatment for their needs. We use the most advanced equipment and have the deepest respect towards our patients. We offer more than just dental treatments. We transform our patients, often giving them a new and better life. This is our specialty.
You give people a beautiful smile. How is this possible?
We achieve this by using the latest digital technology. Our software allows us to measure the smile, design it and then show it to the patient. Today, we use computer simulation that will allow the patient to see the final result of their treatment.
A patient's smile begins with the choice of the teeth of their dreams. Your clinic now offers an impressive library of smiles. How did you get to this point?
This was an idea of the Brazilians, who are very attached to the aesthetics of the smile. Our first trips to Brazil made us realize the importance of aesthetics. So we decided to request access to this vast library of smiles.
What is the library of smiles?
Patients may choose the smile of their dreams from among hundreds of thousands of smiles. This is a very accurate tool. The facets are lovely and natural because they are reproduced exactly from natural teeth.
If I wanted to get Angelina Jolie's smile, would you be able to do it?
If Angelina's teeth are in the library, then yes. Moreover, your smile will remain in the library. Our specialized scanners allow us to reproduce it at any time. I regularly see patients who are toothless, and they sometimes bring in photos from when they had all their teeth. Today we can reproduce them, but we often use the library.
However, malocclusion, if any, needs to be corrected first. It is necessary to take care of the cavities before dealing with the aesthetics of the whole. During the first visit, we can already design a smile. That is our ultimate goal. We also do aligner orthodontics. Teeth are aligned with invisible aligners, not with conventional braces. We no longer take impressions for diagnostic models, as we used to do in orthodontics.
A three-dimensional image is generated in our laboratory, which allows us to create the patient's smile in their absence. We can schedule surgery and implant procedures in detail. Therefore, implants can be placed faster and more accurately, making it more comfortable for the patient.
What makes you different from other clinics in the area?
Everything? (Laughs) I'm kidding. We have taken a different approach. Starting with the interior design of our clinic: you feel at home here. We don't just use the latest technology. We do everything we can to improve the well-being of our patients throughout their dental care. I think it is safe to say that we are pioneers in this field. For example, we use computer-assisted anesthesia, which is painless and does not require a needle. At Exclusive Dental Studio, we offer pain-free treatment. The clinic has a digital tomograph, which lets us scan the whole face. A very accurate picture of the teeth can be obtained as a result.
Your clinic focuses on innovation. What are the benefits of this strategy for patients?
Our mission is to develop the most innovative solutions for the well-being of our patients.
To make sure that patients leave with a new, beautiful and natural smile, the treatment process involves a team of about ten specialists from different areas of dentistry and dental technicians. The aim is to ensure that the patient's smile is, above all, a healthy and ideal reproduction of their natural smile. What does this mean? During the initial consultation, we not only focus on conservative treatment, but also anticipate the consequences of any malocclusion, bruxism or bad habits. This allows us to plan the treatment so that the patient does not suffer the consequences of these problems. To achieve this, many modern technologies are adopted. First, we use a 3-D intra-oral CT scanner. The results obtained are then transferred to computer software. The quality and accuracy of the image allows dental technologists to assess every detail of the patient's oral configuration. This allows them to plan orthodontic treatment, for example, which results in an excellent aesthetic result in a relatively short time.